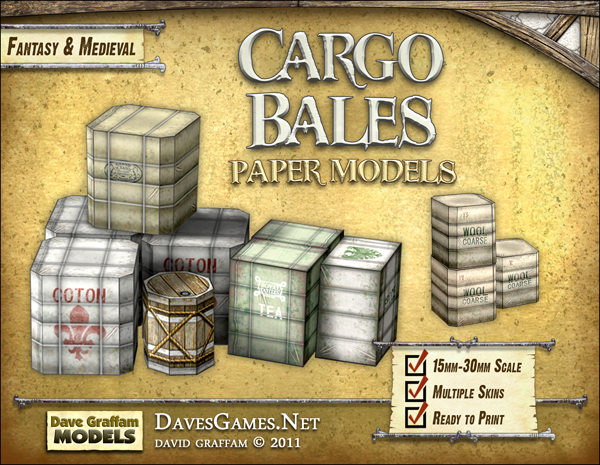 These cargo bales are suitable for almost any genre. They will work for fantasy or medieval settings, military wargames from Napoleon to post-apocalypse, and almost anything from steampunk to space trucks. Cargo bales like these could be found in any zombie-infested warehouse, medieval trading village, war camp, wagon, market square or industrial park.

This paper model kit is easy to assemble, requiring just cardstock paper sheets to print on (110 lb. or 199gsm recommended), scissors, hobby knife, paper glue, aluminum ruler and cutting mat. Assembly time is just a few minutes per bale.

These models are designed at the popular 28mm-30mm gaming scale, but if you are very meticulous you can shrink them down to 15mm, 20mm or 25mm scales by simply adjusting the print size percentage on your printer. Tips and advice for altering the scale are included with this kit.

This set features multi-layered PDFs that offer a variety of skins. These texture layers can be mixed and combined in various ways, giving you control over the appearance of your bales before you print them.
You get all of these texture options:
Base color (choose from 10 colors, including white, earth tones, drab blues and greens)
Labels for what's inside (choose from several item names in a variety of languages, for exotic-looking cargoes)
Various markings such as arrows and hand numbering for cargo handlers
Trading company stamps and royal insignia
And more!

For your printing convenience, you also get 7 prepared sheets of bales. These feature color schemes and other extras that aren't found on the multi-layered version. In total, the single-layered PDFs include 48 bales (24 each in two sizes) and 3 bonus casks.

You'll need the free Adobe Acrobat Reader 7.0 or later in order to use these files.

The large bales measure 0.85" tall and 0.8" across. The small bales measure 0.75" tall, and 0.65" across and 0.5" deep. The cask stands 0.75" tall and is 0.6" across.