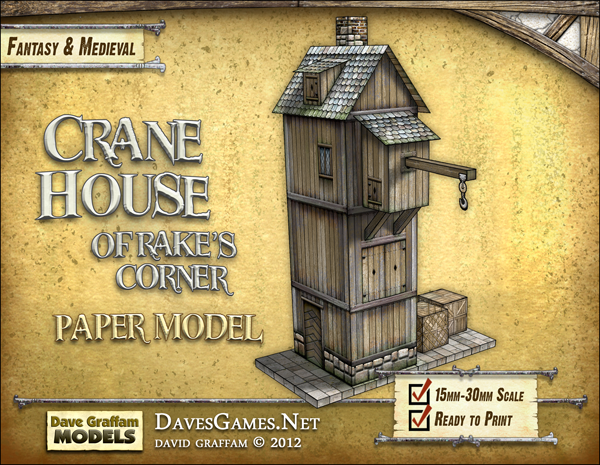 A crane house like this is useful in any harbor, and might be the property of a merchant at their private pier or warehouse. It might be owned by a town or individual offering its services to the public, charging a small fee for every hoist. Such a structure would also be vital in an exchange market where bulk goods are being traded, where large freight needs to be moved from one wagon to another all the time. In Rake's Corner, the old crane house has played a part of many shady deals and the trafficking of contraband.
The operation is simple: Because the crane stays in one place, carts or boats are moved into place beneath it. Heavy cargo in a net or harness is lifted off the back of carts or boats, and workers on the ground use hooks and poles to maneuver the cargo onto the dock. There, it can be broken down into smaller units and distributed, lifted onto the next boat or cart in line or stacked for later.

This paper model kit is easy to assemble, requiring just cardstock paper sheets to print on (110 lb. or 199gsm recommended), scissors, hobby knife, paper glue, aluminum ruler and cutting mat. Optionally, you can use a piece of foamcore for the base.

This model comes prepared in two scales: 15mm and 28mm/30mm. It can also be printed at other gaming scales by adjusting the print size percentage on your printer. Tips and advice for altering the scale are included with this kit.

This specially-priced model features single-layered PDFs that are ready to print right way.

Click here to download the Detailed Assembly Instructions PDF.

You'll need the free Adobe Acrobat Reader 7.0 or later in order to use these files.

The Crane House's footprint is 2.7" x 2.2" and it stands 8.6" high at the chimney. An optional ground piece is provided for extra stability, and it measures 3" x 6".