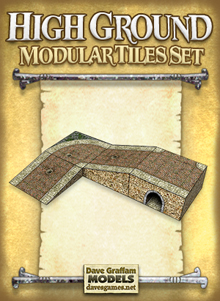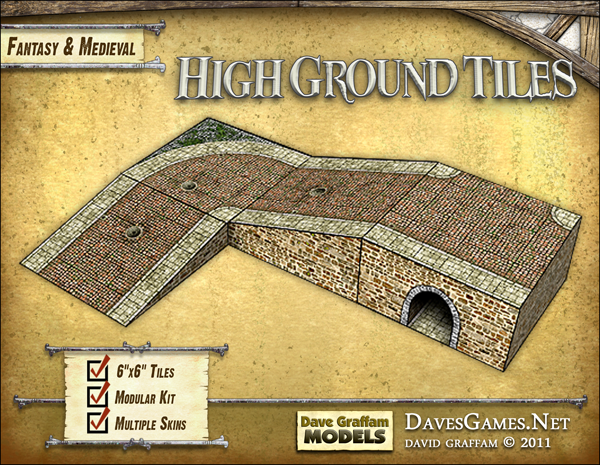 This paper model kit is easy to assemble, requiring just cardstock paper sheets to print on (110 lb. or 199gsm recommended), scissors, hobby knife, paper glue, aluminum ruler and cutting mat. Assembly time is about an hour.

This model is designed at the popular 28mm-30mm gaming scale, and can be shrunk down to 15mm, 20mm or 25mm scales by simply adjusting the print size percentage on your printer. Tips and advice for altering the scale are included with this kit.

This model includes a variety of wall sections and ground tiles for creating a complete town layout with ramps and elevated ground sections. Create modular building blocks to arrange any way you want, or combine the wall sections to form unique terrain pieces of your own. This set is all you need to create a varied landscape for your gaming table, giving you the perfect platform for placing buildings and staging battles, skirmishes and adventures.
This set is designed to be fully compatible with other Dave Graffam Models tile and terrain sets, including the Medieval Ground Tiles, Cropland Ground Tiles, Garden Ground Tiles, Wooden Fences, Medieval Walls Set, and Low Walls Set, available separately. (And of course you'll want to pick up some of my paper model buildings or ruins sets to finish off your cityscape!)

This model features multi-layered PDFs that offer a variety of skins. These texture layers can be mixed and combined in various ways, giving you control over the appearance of your model before your print it. This means you can create this model over and over, choosing a different look every time. It's many models in one!
Choose from a variety of surface textures and details for the walls:
Red Victorian Bricks
Brown Victorian Bricks
Red Medieval Bricks
Brown Medieval Bricks
Gray Medieval Bricks
Brown Stone
Gray Stone
Ladders
Drainage Vents
Parchment Posters
Ladders and Tools
And more!
The ground tiles feature rough red cobblestones, and lots of road sections. It's a complete medieval street tile system, including:
Sidewalks
Optional 1" Grid
Mud Background
Grass Background
4 types of Patchy Grass Backgrounds
Patchy Mud Background
7 layers of Rubble
Road sections for creating straight shots, curves, intersections and open plazas

Platforms:
1" Platform
2" Platform
3" Platform
4" Platform
Shallow Ramps:
1" Ramp
1" to 2" Ramp
2" to 3" Ramp
3" to 4" Ramp
Steep Ramps:
2" Ramp
1" to 3" Ramp
2" to 4" Ramp
Ground Tiles:
Standard 6" x 6" Ground Tile
Shallow Ramp Ground Tile
Steep Ramp Ground Tile
Passageway Insert:
Passageway (arched insert piece)
Passageway Ground Tile
Gate (with a choice of textures, including Dark Wood, Light Wood, Metal and more)
Accessories:
Makeshift Bridge (in 3 textures: Wood, Green Metal, Gray Metal)
Ladders (in 3 textures: Wood, Green Metal, Gray Metal)
Wooden Crates (with optional shipping labels)
Blank Set of each wall section with the trimming-lines only, for creating your own wall textures or for various uses, such as unseen walls or reinforcing pieces.


You'll need the free Adobe Acrobat Reader 7.0 or later in order to use these files.

The ground tiles and building blocks in this set are all designed with a 6" x 6" footprint, making them compatible with most paper terrain sets. You'll find platforms and ramps ranging from 1" high to 4" high, and you can stack your ramps and platforms to reach even greater heights.