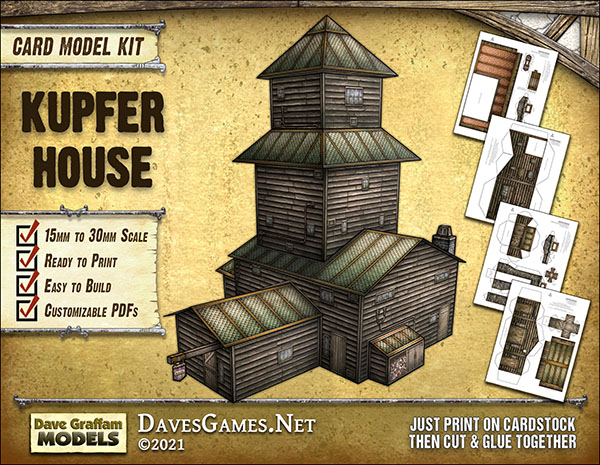 This PDF card model kit contains 41 pages of 30mm-scale card model pieces that you can you print, cut and assemble into tabletop gaming terrain. It includes several stand-alone buildings which can be combined into larger structures. In this kit you will find:

Accessories (4 pages)
Cabin (3 pages)
Guest House (3 pages)
Longhouse (4 pages)
Main Structure Version A (8 pages)
Main Structure Version B (6 pages)
Middle Level (5 pages)
Office (5 pages)
Upper Level (3 pages)


The models in this kit are designed to be easy to assemble, and should provide a relaxing and fun time for beginners and experienced modelers. These models require just cardstock paper sheets to print on, some quality scissors, a hobby knife, some fast-drying tacky paper glue, a metal non-slip ruler and a cutting mat. Step-by-step illustrated instructions are included.


These models are designed at the popular 28mm-30mm gaming scale, and can be shrunk down to 15mm, 20mm or 25mm scales by simply adjusting the print size percentage on your printer. Tips and advice for altering the scale are included with the assembly instructions.


This kit features multi-layered PDFs that offer a variety of window and door arrangements, your choice of 2 roof colors, and a few other details.

For your printing convenience, this kit includes a full set of PDFs that are ready to print right away if you don't want to customize your models with optional layers.

To make full use of layered PDFs, open these files with Adobe Acrobat Reader.
---
Assembly and photo thanks to C. Cattaneo: