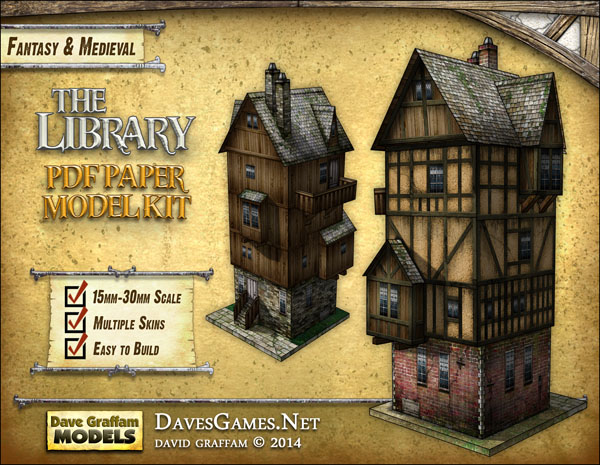 This paper model kit is easy to assemble, requiring just cardstock paper sheets to print on (110 lb. or 199gsm recommended), scissors, hobby knife, paper glue, metal ruler and cutting mat. It may look complicated, but every part of the Library is simple to assemble on its own, and putting it together is just a matter of building up the simple shapes into the complete structure you see here. Optionally, you may also use a piece of foamcore for the base, and make use of other common hobby tools for even better results. Full instructions are included.

This model is designed at the popular 28mm-30mm gaming scale, and can be shrunk down to 15mm, 20mm or 25mm scales by simply adjusting the print size percentage on your printer. Tips and advice for altering the scale are included with this kit.

The Library features multiple texture layers, putting you in control over the final look of your model before you print. If you like, you can print several versions of this model and scatter them around your gaming table, and each model can have a distinct look.
Choose from a variety of surface textures for the walls:
Brick walls (3 colors)
Stone walls
Half-timbered walls (2 colors of beams, 2 colors of nogging)
Wood walls
Lots of window positions
Library sign
And more!
Choose from a variety of roof textures:
Slate tiles (2 colors)
Shingles
Moss
Choose from these configuration options:
Three optional wall dormers
Optional balcony
Narrow or wide steps
Optional roof dormers
Optional chimney positions

The Library includes all of the PDF files you need to print and assemble a cardstock paper model with front steps, chimneys, several dormers, balcony, and ground piece.

You'll need the free Adobe Acrobat Reader to use these files.

At 28mm-30mm scale, the finished model measures about 6" wide by 5.5" long (including dormers) and stands about 14" tall (including chimneys). It sits on a 6" x 6" square ground piece.