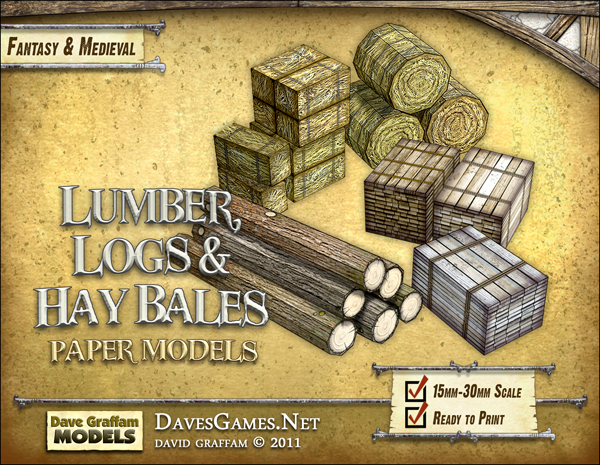 This paper model kit is easy to assemble, requiring just cardstock paper sheets to print on (110 lb. or 199gsm recommended), scissors, hobby knife, paper glue, aluminum ruler and cutting mat. Assembly time is just a few minutes per log, lumber stack or hay bale.

These models are designed at the popular 28mm-30mm gaming scale, but if you are very meticulous you can shrink them down to 15mm, 20mm or 25mm scales by simply adjusting the print size percentage on your printer. Tips and advice for altering the scale are included with this kit.

For your printing convenience, these models are provided as single-layered PDFs that are easy to print right away.

This set includes 6 pages of components, including:
8 stacks of lumber
15 logs
4 individual square-cut hay bales
4 grouped square-cut hay bales
5 rolled hay bales

You'll need the free Adobe Acrobat Reader 7.0 or later in order to use these files.

The individual (smaller) hay bales measure 0.55" x 0.5" x 1". The four-bale blocks measure 1.1" x 1" x 1". The lumber stacks, logs and rolled hay bales are all slightly different in size and appearance, so that they will create a natural and non-uniform look when stacked together. The smallest lumber stack is 0.6" x 1.5" x 1", while the largest is 1" x 0.75" x 2.2". The logs measure between 3.2" and 4.2", and are around 0.5" in diameter. Each rolled hay bale is roughly 1.3" long by 1" in diameter.