Need to quickly and affordably provide your colony with homes, offices, storage units, and utility bunkers? The Offworld Habitat Type 03 is the solution. These prefabricated habitats are designed to be loaded aboard any cargo vessel as standard shipping containers and then assembled on site with ease. They are the ideal size for single families and workers, offering climate control and durability to suit nearly any environment, no matter how inhospitable. Their modular design is configurable for a variety of applications and available in an array of colors to brighten your burgeoning offworld communities. These habitats can do it all. Contact your sales representative today and don't forget to ask about bulk discounts.

This cardstock print-and-build terrain kit is easy to assemble, requiring just a few cardstock paper sheets to print on (matte photo paper recommended), hobby knife, paper glue, metal ruler and cutting mat.

This model is designed at the popular 28mm-30mm gaming scale (1 inch equals 5 feet or 2 meters), and can be shrunk down to 15mm, 20mm or 25mm scales by simply adjusting the print size percentage on your printer. Tips and advice for altering the scale are included with this kit.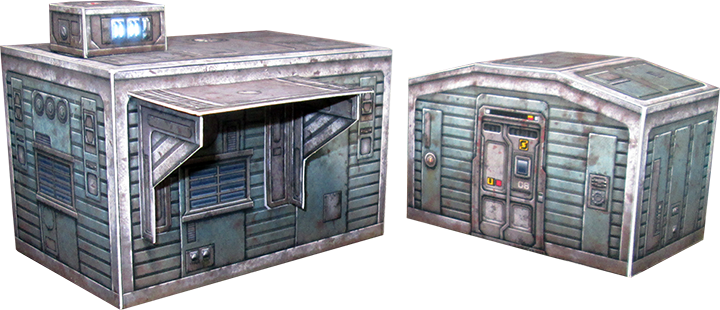 This set features multi-layered PDFs that offer a variety of color schemes and other details.

You'll need the free Adobe Acrobat Reader in order to use these files.

PDFs fully ready to print with 3 prepared configurations
Multi-layered PDFs you can customize before printing
Step-by-step illustrated instructions booklet


This model can be configured in a few different ways. At 28mm scale and in its tallest and most sprawling configuration, this model has a footprint of about 4.25" x 7.3" (110mm x 188mm) and stands about 5.3" tall (137mm).