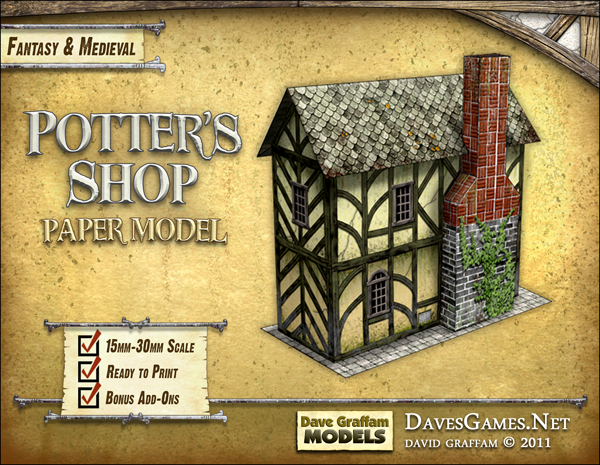 This paper model kit is easy to assemble, requiring just cardstock paper sheets to print on (110 lb. or 199gsm recommended), scissors, hobby knife, paper glue, aluminum ruler and cutting mat. Assembly time is about an hour.

This model is designed at the popular 28mm-30mm gaming scale, and can be shrunk down to 15mm, 20mm or 25mm scales by simply adjusting the print size percentage on your printer. Tips and advice for altering the scale are included with this kit.

This specially-priced model features single-layered PDFs that are ready to print right way.

As a bonus, download these free PDFs of add-ons for the Potter's Shop model. You'll get extra variations of the chimney texture that are different from the one included with the original model. These chimneys will also work with the Crescent Moon Tavern, Grey Hare Inn, Small Shop, or the Bait Shop or Dock Warehouse from the Maritime Buildings Bundle. To add one of these chimneys to those other models, you just need to cut out a small piece of the roof overhang and glue the new chimney in place. You can also get some additional roof textures, expanding your customization options even further.
Click Here to Open the Potter's Shop Add-Ons PDF for Free
Click Here to Open the Potter's Shop Roof Add-Ons PDF for Free

This kit also includes an outhouse and 16 wooden crates.

You'll need the free Adobe Acrobat Reader 7.0 or later in order to use these files.

The Potter's Shop has a footprint of 3" x 6.6", and the model stands 6.3" tall including the chimney.