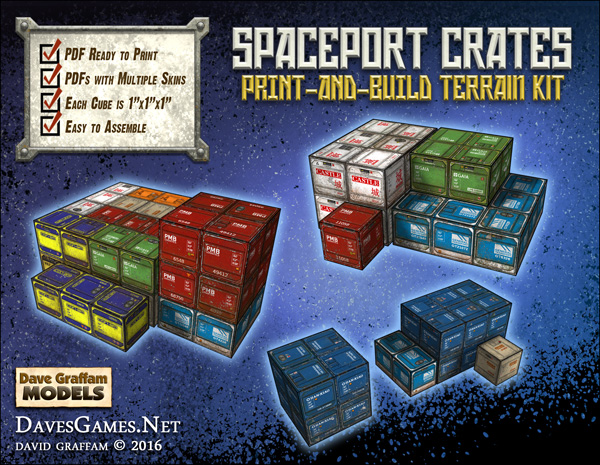 This cardstock print-and-build terrain kit is easy to assemble, requiring just cardstock paper sheets to print on (index weight, 110#, or 199gsm recommended), hobby knife, paper glue, metal ruler and cutting mat.

These crates are designed at the popular 28mm-30mm gaming scale (1 inch equals 5 feet or 2 meters), and can be shrunk down to 15mm, 20mm or 25mm scales by simply adjusting the print size percentage on your printer. Tips and advice for altering the scale are included with this kit.


This set features multi-layered PDFs that offer a variety of shipping company liveries.

You'll need the free Adobe Acrobat Reader 7.0 or later in order to use these files.

28-page PDF containing a large variety of crates ready to print
10 PDFs with multiple graphics layers to choose from before printing
Photoshop and PNG templates to help you design crates with your own colors and markings
Instructions booklet

Each crate is a 1" x 1" x 1" cube. You will find individual crate models in this kit, but most of what you will find are larger blocks of several crates. You will find blocks in all these sizes:
1 x 1 x 1
2 x 1 x 1
2 x 2 x 1
2 x 2 x 2
3 x 1 x 1
4 x 1 x 1
3 x 2 x 2
3 x 3 x 1
4 x 2 x 2
4 x 4 x 2
3 x 3 x 2