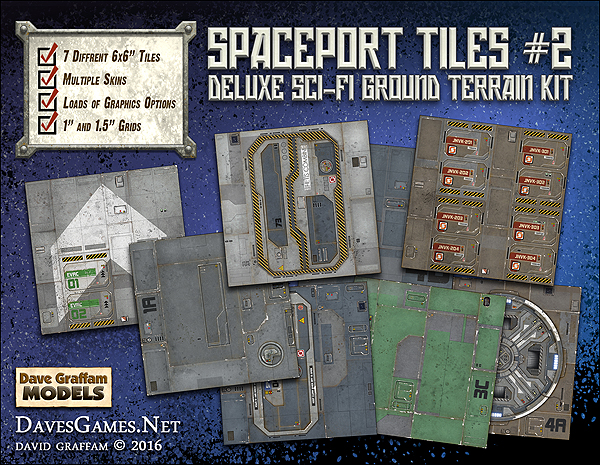 This paper terrain kit is easy to assemble, requiring just cardstock paper sheets to print on (110 lb. or 199gsm recommended), hobby knife, paper glue, metal ruler and cutting mat. Optional textured sidings are provided for mounting on foamcore.

These tiles are designed at the popular 28mm-30mm gaming scale (1 inch equals 5 feet), and can be shrunk down to 15mm, 20mm or 25mm scales by simply adjusting the print size percentage on your printer. Tips and advice for altering the scale are included with this kit.

This set features 7 multi-layered PDFs that offer a variety of customization options. The texture layers can be mixed and combined in various ways, giving you control over the appearance of your tiles before you print them. This means you can use each tile PDF over and over, choosing a different look every time.
Each tile offers over 80 graphics layers to choose from, including:
Variety of basic metal colors (gray, dark gray, blue, brown, green)
Lots of optional maintenance hatches, service ports and other mechanical details
Optional storage bay doors
Optional safety decals and other markings
Lots of weathering options to control the amount of grime, rust, chipped paint and oil spills
Optional grid overlays for 1" squares and 1.5" squares
And more!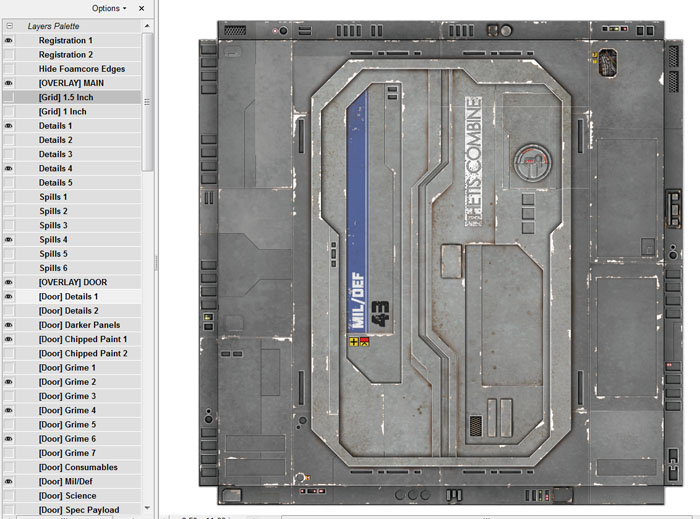 You'll need the free Adobe Acrobat Reader 7.0 or later in order to use these files.

This kit features 3 types of spaceport ground tiles:

Page 1: General starport flooring module suitable for areas with lots of ground traffic, featuring optional small storage bay doors.

Pages 2-3: General flooring modules with optional large storage bay doors.

Pages 4: Small circular landing pad.

Page 5: Quarter-circle landing pad. Arrange four of these tiles to create one large (12" x 12") circular landing area.

Page 6: Quarter-square landing pad. Arrange four of these tiles to create one large square (12" x 12") landing pad.

Page 7: Insert piece used to extend square landing pads (page 6) into long (18", 24", 30"...) rectangular landing pads.

Each tile is 6" x 6".