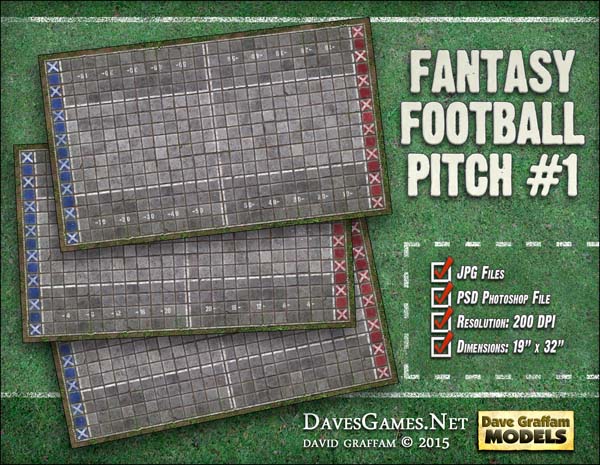 The old stone pitch in Hammendorf has been used for centuries, but is reasonably well maintained by clerics of the nearby monastery. The playing field is often obscured with clouds of incense smoke from censers as the monks pray for the souls of those who have died on its unforgiving pavement, and for all those who step up to its hallowed scrimmage line.
Note: This playing pitch is set up with 29mm squares compatible with the original edition of Blood Bowl. To bring it up to the 34mm square size used in the 2016 edition of everyone's favorite fantasy football game, print this pitch at 117% of its original size.

This set includes 6 JPG files that are ready to print, in the following configurations:
Plain
Plain + scatter diagram
Marked in feet
Marked in feet + scatter diagram
Marked in meters/yards
Marked in meters/yards + scatter diagram
To make customization easier, this set also includes a layered Photoshop CS2 file. For Photoshop users, this is a great way to add team logos, change the endzone colors, and so on.

Each square is roughly 29mm to a side. The full mat measures 19" x 32".