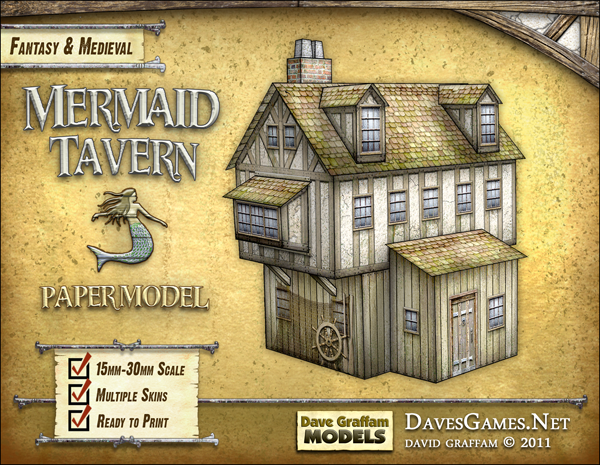 This paper model kit is easy to assemble, requiring just 6 or 7 cardstock paper sheets to print on (110 lb. or 199gsm matte stock recommended), scissors, hobby knife, paper glue, metal ruler and cutting mat. For better results, a foamcore base can be used.

This model is designed at the popular 28mm-30mm gaming scale, and can be shrunk down to 15mm, 20mm or 25mm scales by simply adjusting the print size percentage on your printer. Tips and advice for altering the scale are included with this kit.

The Mermaid Tavern features multiple texture layers, putting you in control over the final look of your model before you print. If you like, you can print several versions of this model and scatter them around your gaming table, and each model can have a distinct look. Create your own unique Mermaid Tavern, boating supply shop, riverside inn, fish and chips stand, bait and tackle shop, or cozy seafood restaurant. It also works great for Tudor-styled buildings in European historical and many fantasy settings.

Choose from a variety of surface textures for the walls:
Stone walls
3 types of half-timbered beamwork
2 types of plaster
2 types of bricks
Optional cornerstones
Optional hanging signage (mermaid, fish, boat)
Decorative oars, netting and ship's wheels
Optional window and door positions
Optional wall dormers
And more!
Choose from these roof textures:
4 types of roof tiles and shingles
Optional roof dormers
Optional moss
Choose from these footprint textures:
Rural grass, dry grass and rocky ground
Urban cobblestones
Flagstones
Wood decking
And much more!

For your printing convenience, this model includes 3 prepared skins that are easy to print right away.
Bait and Tackle Shop
Mermaid Tavern
Riverside Restaurant

You'll need the free Adobe Acrobat Reader 7.0 or later in order to use these files.

This model's footprint is 5.2" x 4.5", and it includes an optional ground piece measuring 9" x 7". The Mermaid Tavern stands 7.3" high with the optional chimney stacks. This set includes an outhouse, lobster traps and storage trunks.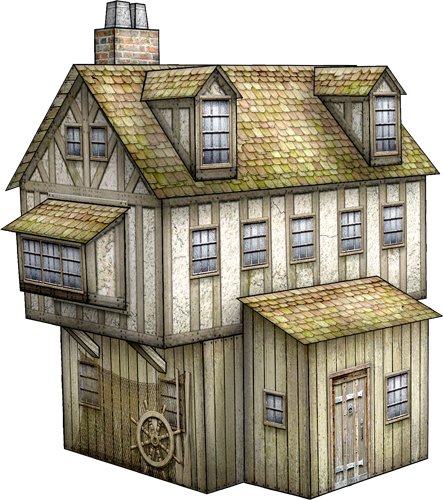 Photos and assembly by Jerry Jensen: