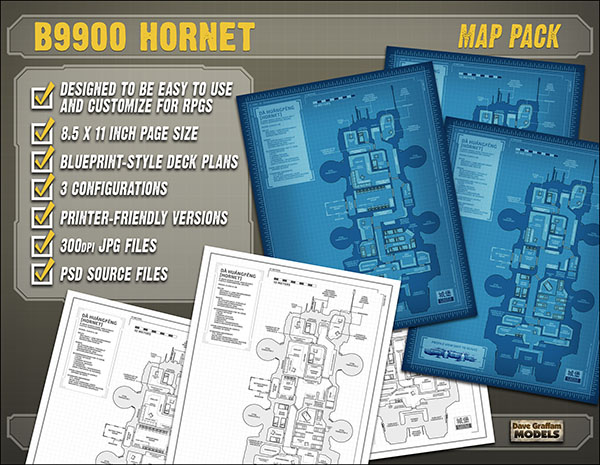 This map pack gives you an instant starship deck plan for your science fiction RPG adventures. It's setting-agnostic and systemless, so it should be easy to adapt these materials to just about any science fiction RPG. The maps are designed to be easy to set up for home use and the virtual tabletop.
The B9900 Hornet is a short-range, in-system-only vessel manufactured by Castle Corporation, operated by a crew of 10 to 17 depending on configuration. Even without an FTL drive, this small transorbital ship can be put to a variety of tasks, from search and rescue to prisoner transport. Three different versions are included with their own distinct deck layouts.

(6) 8.5 x 11 inch JPG images, 3 in "blueprint blue" and 3 in printer-friendly monochrome
(6) PSD Photoshop source files of the full-color and monochrome maps giving you total freedom to customize

Each map measures 8.5 x 11 inches at 300dpi resolution. 144dpi JPGs are also included.