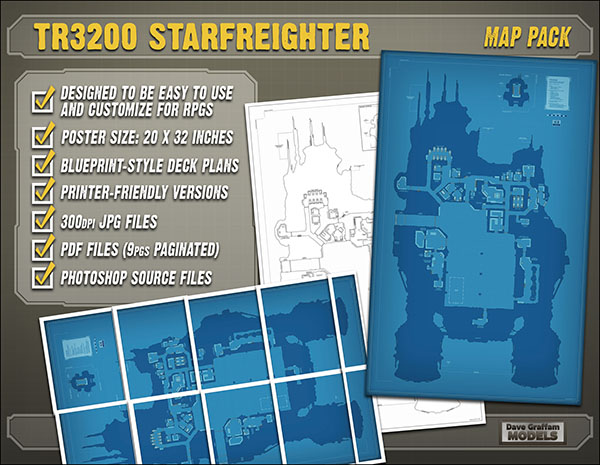 This map pack gives you an instant starship deck plan for your science fiction RPG adventures. This kit is setting-agnostic and systemless, so it should be easy to adapt these materials to just about any science fiction RPG. These maps are designed to be easy to set up for home use and the virtual tabletop.
The TR3200 Starfreighter is an FTL-capable medium-range vessel manufactured by Castle Corporation, requiring a crew of 10. It is intended for routine supply runs and express deliveries between colonies, orbital depots, and deep space outposts, with two powerful sublight thrusters providing stick-to-your-seat acceleration. While priced out of the range for most private owners, several colony-developing corps and governments include the TR3200 Starfreighter in their fleets. These freighters are ubiquitous enough that most of the examples that you will see at starports will be painted in a garish color scheme for easy identification.

(2) poster-sized JPG images of the starfreighter's deck plan, one in "blueprint blue" and the other in printer-friendly monochrome
(2) PDFs in US Letter size for your printing convenience, breaking up each of the poster-sized images into 9 individual pages
(2) PSD Photoshop source files of the full-color and monochrome map giving you total freedom to customize
Bonus graphics of a forklift and a few cargo containers in PNG format with transparent backgrounds that you can place wherever you like using your favorite graphics software

The full-size maps measure 20 inches by 32 inches at 300dpi resolution.